Parenthood: Season 1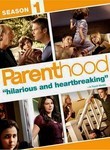 Release Year: 2010
Length:
Reviewed 3 times
Summary
When struggling single mom Sarah Braverman (Lauren Graham) moves back home to Berkeley, Calif., with her two surly teens in tow, she reunites with her three adult siblings who are also confronting the challenges of parenthood in the new millennium. Even Sarah's own parents are discovering that the job never ends. Peter Krause, Monica Potter and Craig T. Nelson co-star in this dramatic series based on Ron Howard's hit 1989 film of the same name.
Achei que seria bem bacana, ainda por cima por causa da Lauren Graham, mas pra mim ficou só na expectativa.

Tem aquele aspecto de soap opera, mas o elenco afinado aliado com o bom roteiro fazem da série bastante cativante de assistir.