Afro Samurai: Season 1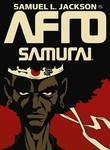 Release Year: 2007
Length: 02:05:00
Reviewed 3 times
Summary
In a futuristic Japan where conflicts are settled by the sword, Afro Samurai (voiced by Samuel L. Jackson) must avenge his father's murder by challenging a powerful warrior named Justice (Ron Perlman) in this anime miniseries. If he can defeat Justice, Afro will become the new No. 1. He's joined on his quest to unseat the premier samurai by Ninja Ninja, who provides excellent strategic advice in combat -- but who also may be a hallucination.
Roteiro genial e violência na medida certa,sem duvidas, te prende. P.S.: Existe algo mais foda que um samurai afro?

Bastante violento e visualmente belíssimo. Dublagem competente e com o peso de nomes como Samuel L. Jackson e Ron Perlman.